This weekend was a very busy weekend.  We are exhausted!  On Friday night we had an awesome time with our youth from our church at "WINGS,WORSHIP, and WHAT-NOT!"  It was a chance for everyone to bring some friends that might not normally go to church and for us to get to know the youth a little more.  John had a chance to lead worship for the kids.  It was good but also that awkward "we have to sing cause it is a small group but we will not sing too loud," kind of singing. Our youth minister is trying to and DOING a great job of explaining who Jesus is.  
Saturday we went out to Keenland.  
About 20 of Johns fellow residents decide to Tail gate before the horse races.  The weather was a chilly with the wind but the sunshine was incredible.  We basically stayed at the the tail gate for 4 hours and never made it into the race.  Still fun.  After that, John and I went to run some errands and hurried home to play with our dog before we headed out to our first INDIAN New years celebration.
Why you might ask??????
Dr. Reddy, (one of John's Attendings), had asked me to choreograph a tap dance to Indian music for 11 girls...who have never tapped before.  We have been working on this dance for the last 4 weeks and they did an awesome job.  I don't have any pictures unfortunately but they were great and super cute.  These kids were some of the best kids I have ever worked with.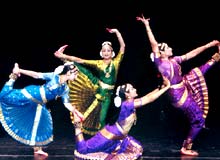 But the night itself was extremely interesting. The program itself did not begin until 6:30..or at least it was supposed to start then.  A little after 6:45, the program began and out came the traditional Indian singers and dancers.  It was very neat and beautiful to watch the dancers perform all the hand motions and foot work.  There were some boring parts to the night also - an Indian comedian......(not funny if you do not know the language).  
John and I did learn a lot about Indian culture and enjoyed some traditional home cooked Indian food.... we were there until 9:45pm.
And of course today.... Easter Sunday.  I woke up this morning so thankful for what my saviour has done.  Today, John and I were in the nursery helping with the 3 yr olds.  OH JOY!
It was eventful..One of the little girls missed her mommy so much that she would not let go of me the entire time.  When I went to go page her mommy, John tried to pick her up and she screamed louder.  I came back, picked her up in my arms and felt a nice warm sensation on the side of my shirt.  I was peed on.  What a hard day for sweet little Ella.  :-(  
After church I came home and prepared four dishes (deviled eggs, green bean casserole, risotto, and cranberry salad) for our Easter lunch with  Blake and Brianna (youth pastor and wife).  We had a great meal at their house with their sweet daughter...who could not get enough of Diesel.....
FINALLY we are home...............I hope you enjoyed my boring long blog about our weekend.  :-)